Our recent camping run up the coasts of Northern California and Oregon could have been called the 'same as it ever was tour'. We revisted several old favorites and added a couple new ones as well. Port Garibaldi, Oregon (our furthest Northern point) was our destination this trip and after back-to-back visits, it's now firmly entrenched as a must stop. A very sleepy, small fishing town that I suspect would easily feel at home along the coast of Maine or even further north in Newfoundland Canada. In the winter, maybe not so much ; )

Here's our travel list of camping destinations along with some quality walkabout stops while in-route.

Camping Destinations
- Burlington Campground, Humbolt Redwoods, CA (1 night)
- Harris Beach State Park, Brookings, OR (3 nights)
- Umpqua Lighthouse State Park, OR (1 night)
- Port Garibaldi, OR (2 nights)
- Ashland, OR (1 night)

Walkabouts
- The Arcata Marsh and Wildlife Sanctuary, Arcada, CA
- Arizona State Beach Recreation Site, Port Orford, OR
- Historic Downtown of Dunsmuir, CA
- Historic Downtown Yreka, CA

Parting shots
It was nice to meet up with Terri and Vance for a few nights in the middle of the trip and certainly enjoyed hoteling it our last night at the historic Ashland Springs Hotel (near the California/Oregon border). Shooting-wise, pretty much the usual fare. An eclectic photo-travelogue with some landscapes over here....some grunge, abstraction and maybe a little Pop over 'der'.
Boathouse - Garibaldi, OR
Hillside Fog - Garibaldi, OR
The Spot Seafood - Garibaldi, OR
Redwood Slice - Humbolt Redwoods, CA
Redwood Interior Burn - Humbolt Redwoods, CA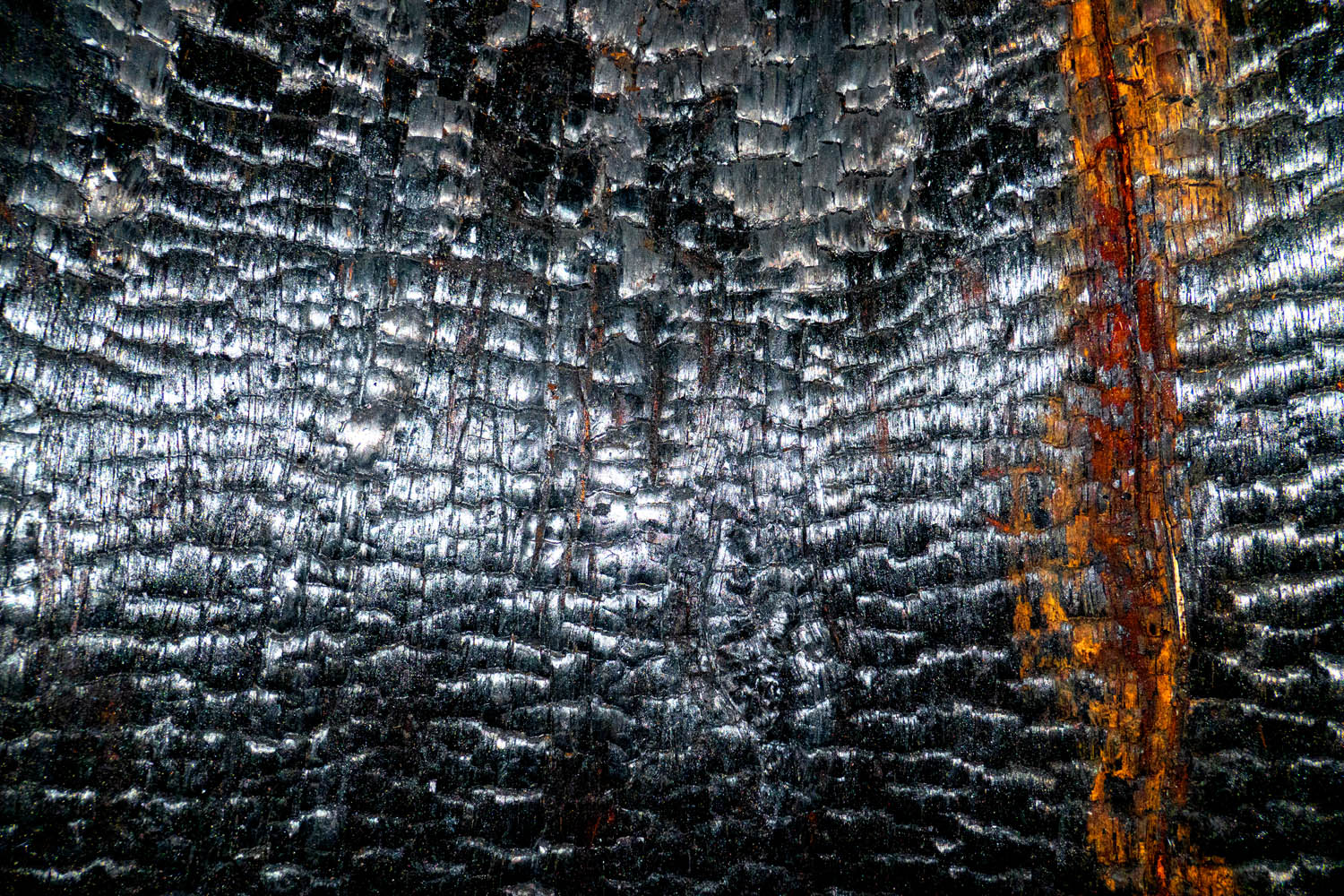 Redwood Interior Burn - Humbolt Redwoods, CA
Redwood Explosion - Humbolt Redwoods, CA
Fire Escape - Cottage Grove, OR
Pond Leaves and Reflections - Arizona Beach, CA
Pond Grass - Arizona Beach, CA
Botanical Gardens - Brookings, OR
Starfish Trifecta - Harris Beach State Park , OR
Shore Birds 'Rush Hour' - Harris Beach State Park , OR
Beach Rocks - Harris Beach State Park , OR
Beach Rock Seaweed - Harris Beach State Park , OR
Dune Driftwood - Harris Beach State Park , OR
Metal Recyling Gate - Arcata, CA
Storefront Blinds - Dunsmuir, CA
Storefront Blinds - Dunsmuir, CA
Crab Trap 'Rope Installation' - Garibaldi, OR
Fishing Net - Garibaldi, OR
Dismembered Rocking Chair (barn art) - near Laytonville, CA
Railcar Depot - Tillamook, OR
Air Museum Window Poster - Tillamook, OR
Big Tarp - Brookings, OR
Big Rig Shipping Container - Cottage Grove, OR
Back Alley Mural - Cottage Grove, OR
Public Restroom Mural - Garibaldi, OR
Abandoned Building - Dunsmuir, CA
Ashland Springs Hotel - Ashland, OR
Redwood Twosome - Humbolt Redwoods, CA
Carol (distracted by birds) - Humbolt Redwoods, CA