Our trip officially started at the irrepressible Salton Sea in Southern, CA. We finally saw it up close and Bombay Beach more than lived up to the hype I had seen captured by other photographers. Think dystopian theme park meets freewheeling high-art installations meets Woodstock gone bad. No doubt our milestone destination this trip was Tucson but we certainly struck a little gold along the way.
It was our second visit to the city in thirteen months and were determined to dig a little deeper this time around. Carol's smart planning and even smarter travel routes guided us through an eclectic list of venues including art museums, exoctic eateries and a few unexpected finds. Keep in mind however, we're not 'manic sightseers' and right on que we switched to 'full-mosey' mode once we pulled into town. After the better part of three and half days we were more than satisfied with our overall haul.
Grid Photo Collage : Bodie Historic State Park, CA
40" x 26" (72 squares)
I'm ready to lay the last row on my largest 'grid' to date. This rustic, metal clad building lent itself to some nice hand distressing and like all the previous grids I've done, precision cuts and glueing are the key. If I'm off by a 1/16" of an inch on the first row, it would translate to a 1/4" wayward slant by the last row.
Btw...Bodie Historic State Park is the
Mother of all Ghost Towns
and is located in the Eastern Sierra close to Bridgeport, June Lake, Lee Vining, Mono Lake and Yosemite. If you end up near it,
don't miss it!
Read more about Bodie Historic State Park at
https://www.monocounty.org/places-to-go/bodie/
---
January 20, 2020
...back in 'da OC
...and when I say 'to and back' from Orange County, probably a better descriptor would be 'back to back'. A few weeks ago circumstances surrounding my Dad and step-mom dictated Carol and I drive down to Southern California. After a stressfull and demanding week of non-stop tasks, medical appointments, care-related red tape, etc. we declared the sojurn a productive success. Thank you adrenaline!
Read more
---
December 20, 2019
Barnacle Nation
New Painting
Acrylic on Canvas, 60" x 40" (diptych)
Carol's at peace with a cup of tea and no longer having to hear me fight incessantly with this large painting. The barnacles were built-up with acrylic to 1/8"-3/16" high....and sharp. Just like those buggers are in the wild! I actually cut myself working on 'em' a couple times during 'the fight'.
---
October 14, 2019
New Grid Collage 'Carol'
A new 'Grid' photo collage (40" x 30" w/canvas) and for now, my favorite portrait of Carol. It was shot at San Francisco MoMA behind some diffused glass and truly captures Carol's essence. Nay. Perhaps her inner spirit? No, that's not it. How 'bout a highly revealing and 'behind the curtain' peek at a personality in transition ; )
---
September 10, 2019
Deconstructed Bug (revisited)
If you missed Mexican sculptor Damián Ortega's disassembled VW Beetle 'Cosmic Thing' (2003) the first time around, here it is again. The piece remains terminally mind-blowing - especially if you're a 'forever bug fan'. Awhile back I found a decent sized resolution image of it and using software enlarged it 5x, then touched it up some. I might finally get around to doing a full sized tribute poster of it.
---
August 19, 2019
Two Nights in Seattle
In route to our recent trip in Alaska we had the good fortune of a quick layover in Seattle to connect with long, long-time friends Bob and Jan. Over two days we were shown around the big city and took a couple (back and forth) ferry rides to visit their new residence within the island charm of Bainbridge Island.
Read more here.
---
August 19, 2019
Small ship in a big State!
15 years ago Carol and I flew into Anchorage, Alaska as bonafied accidental tourists for an 8 day vacation. Rental car in tow and hotel reservations booked we proceeded to visit the mandatory mainstream (and crowded) destinations. Returning home and in the 'afterglow'it was obvious we hadn't begun to see the place. This time we sailed on a 300' Catamaran with 34 other passengers under the command of the very able Captain Eric and his ride,
the remarkable Alaskan Dream.
We rectified those earlier mistakes and it didn't hurt that we had a full-time naturalist along for the trip as well.
Read more here.
---
August 2, 2019
Art hopping in Orange County, CA
Last weekened when visiting my Dad and Step Mother in South Orange County, CA, we preplanned to spend our three nights at the Segerstrom Center for the Arts. It's become the cosmopolitan center of the county featuring the Segrestrom Concert Hall, the South Coast Repertory, the mind-numbing Noguchi 'California Scenario'- a landscape and sculpture garden and the Westin Hotel.
Read more here.
---
July 24, 2019
Mural Madness at the Barlow
I was recently juried into a Sonoma County painting competition - 10 of us were selected and commissioned to paint murals for an upcoming outdoor Art Festival at the upscale and unique
Barlow Shopping Center
in Sebastopol, CA. I was asked to do something semi-realistic so the painting reflects iconic features of the retro-modern center. I would have chosen something different (and easier) but a point was made it may appeal to the owners or individual business owners. It will be for sale and is definitely priced to move!
---
June 15, 2019
Brookings, Oregon Redux
Last week Carol and I jettisoned the homestead for another camping run up to our adopted town of Brookings, Oregon, just north of the California border. We left behind some unseasonable 95-100 F. temps in Sonoma County and the always impeccable and dependable Harris Beach State Park delivered as usual. Perfect mid-seventies with some morning fog.
Read more here.
---
May 4, 2019
A Day Run up to Fort Bragg, CA
One of Carol's and my (absolute) favorite day trips is making the drive up to Fort Bragg and back.
Yesterday was a full day!
I was after full/semi-abstraction (photography-wise) and Carol was on the prowl to puchase a nice triad of Rhododendrons. By 8am we had coffee and a couple scones on board from a fav bakery in Duncans Mills and were ready to book. We crossed the mouth of the Russian River to the cliffs above the sleepy town of Jenner and settled in for the ocean view. This stretch along California Highway 1 reminds us of Big Sur - perched high above the Pacific and prestinely preserved with little noticeable population or development.
Read more here.
---
March 28, 2019
Chasing the Sun in Arizona
Our first camping trip this year took us mostly around Southern Arizona as we became 'rainbirds' to escape the never ending rains in Northern California. We did find the sun while visiting a National Park, a National Monument, museums, botanical gardens, and a wonderful historic district in Tucson, AZ. A real highlight was the quirky and engaging town of Bisbee, AZ. Making the turn homeward logistics dictated a stop in Las Vegas - only my second stay ever on 'the stip'. Ran straight over to check out the Bellagio and it didn't disappoint with the over-the-top interiors and the highly-hyped fountain show. Guess what? One night in that town was more than enough.
After two weeks in the Southern California, Arizona and Nevada deserts we did a 'touch and go' through Death Valley and landed on the iconic Highway 395 where we spent two nights. The snow filled mountains of the Eastern Sierras chased us all the down the hill from Tahoe, CA.
---
February 8, 2019
Abstraction in the Big Island, Hawaii
Photography wise, my focus during our Hawaii trip (The Big Island) was palm abstractions, reflections and shadows. Of course there was no shortage of them and I found an eclectic mix of other images along the way - some serious shots, some snapshots. Highlights included viewing the recent lava flow destruction sites, the dramatic Kilauea Caldera, pastoral landscapes in and around Parker Ranch and the vintage charm of old downtown Hilo.
---
February 2, 2019
Scavaging in Seligman, Arizona
I was mesmerized by this abandoned Exxon gas station when I first photographed it last fall in Arizona. And I knew when I got home and reviewed the images that I probably would have to attempt to paint it.
Eventually that time and urge came and I initially resisted but slowly came around, gnawed on it over a couple months while working on other projects and eventually finished it. These photo-real painting attempts are a long way from the abstractions I prefer to paint, but eventually (I guess) as an art exercise…it materialized into something satisfying.
---
January 20, 2019
A Walkabout in Morro Bay, CA
We had a short one night stay in Morro Bay on our way home from Southern California to visit my Dad. But did find some time for a quick 'walkabout' in the afternoon we arrived then I had a quality 5-8am session the following morning. 40 years+ of going to Morro Bay, I think Carol and I finally know our way around this town.
Photographic 'walkabouts' are fun and like going to a smorgasbord. You may not get the killer dish, but your assured of getting your money's worth. A spoonful of this and a spoonful of that.
---
December 1, 2018
The Photo Collage 'Grid Series'
'Agave'
was the first photo-collage completed from a in-progress series of 10. Each finished piece consists of (54) 3" squares hand-cut from three separate Inkjet prints (archival Epson Hot Press paper). Hand distressing of each square is followed by a meticulous gluing of each one to a sheet of 30" x 22" Arches - 300 lb.heightweight Hot Pressed watercolor paper. See the
ongoing series here
.
---
November 24, 2018
Another Death Valley Turkey Day
To say our tradition of spending Thanksgiving week at Death Valley, CA is a yearly highlight...is an understandment! View a collection of images from this year's 2018 visit.
---
September 9, 2018
T-Bone Burnett in Santa Rosa, CA
Enjoyed a smallish event last night with wife Carol and son Rob that featured legendary writer, musician and musical force behind several Cohen Bros. films including 'The Big Lebowski' and 'O brother where art thou'. Great stories, a few live songs, clips of projects with plenty of behind-the-scenes commentary. The stories behind two years of touring with Bob Dylan's 'Rolling Thunder Revenue' was a highlight!
---
August 4, 2018
Back at home among the Monoliths
Great to be back up in Brookings, OR for the 'minus 2 foot' tides! The 6 hour drive getting away to our adopted home of Brookings seems half that time considering your driving on Hwy 1/101 all the way. The only traffic signals along the coastal road are in Eureka, CA.
---
April 11, 2018
Flapping my gums on Scott Kelby's blog, FL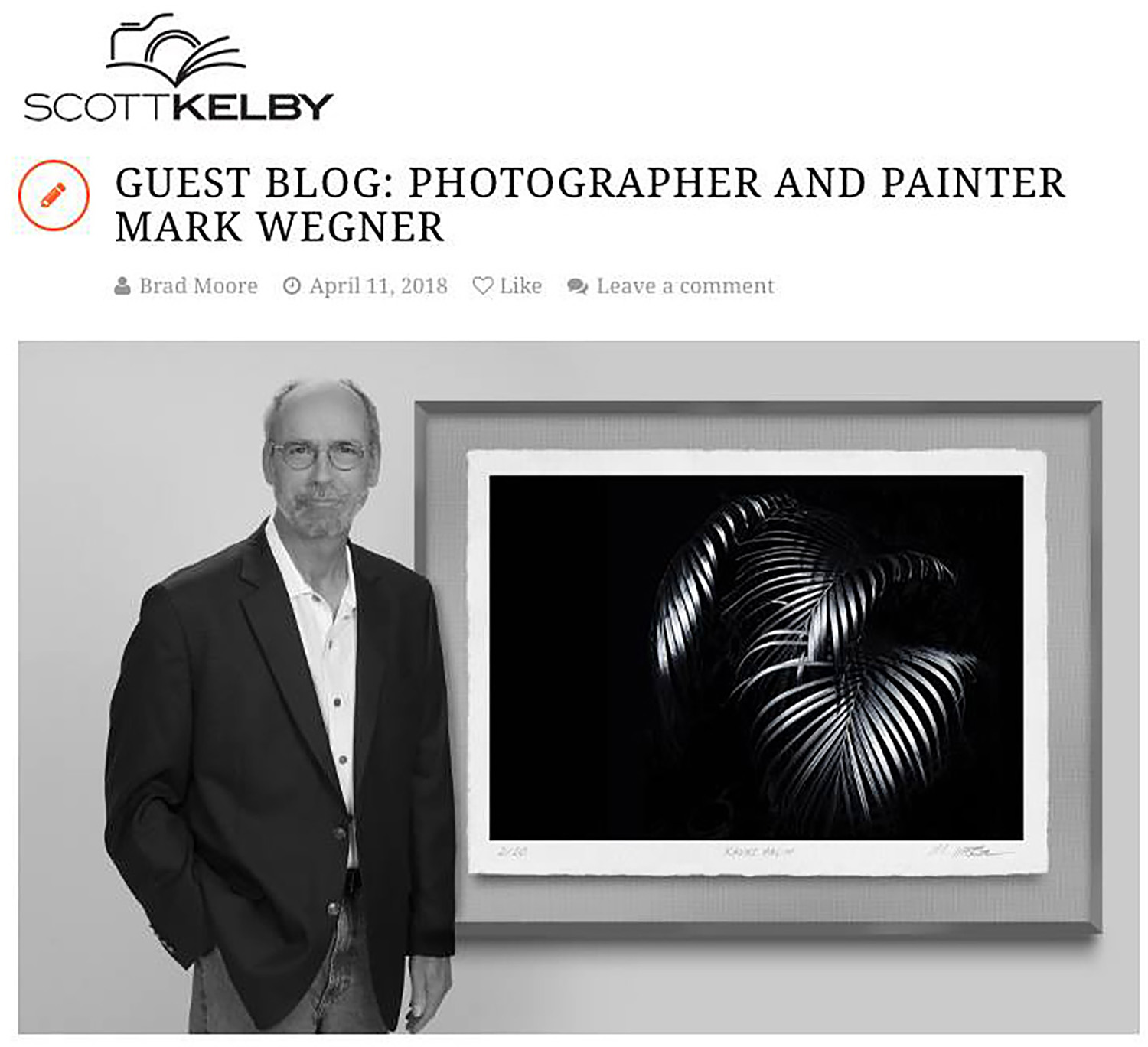 I'm honored to be the guest blogger today on Scott Kelby's wonderful site. I offered up a tutorial on how to elevate an Ink Jet Print into something a little more special. You can find my
Scott Kelby blog post here
---
March 3, 2018
Veggie Landscape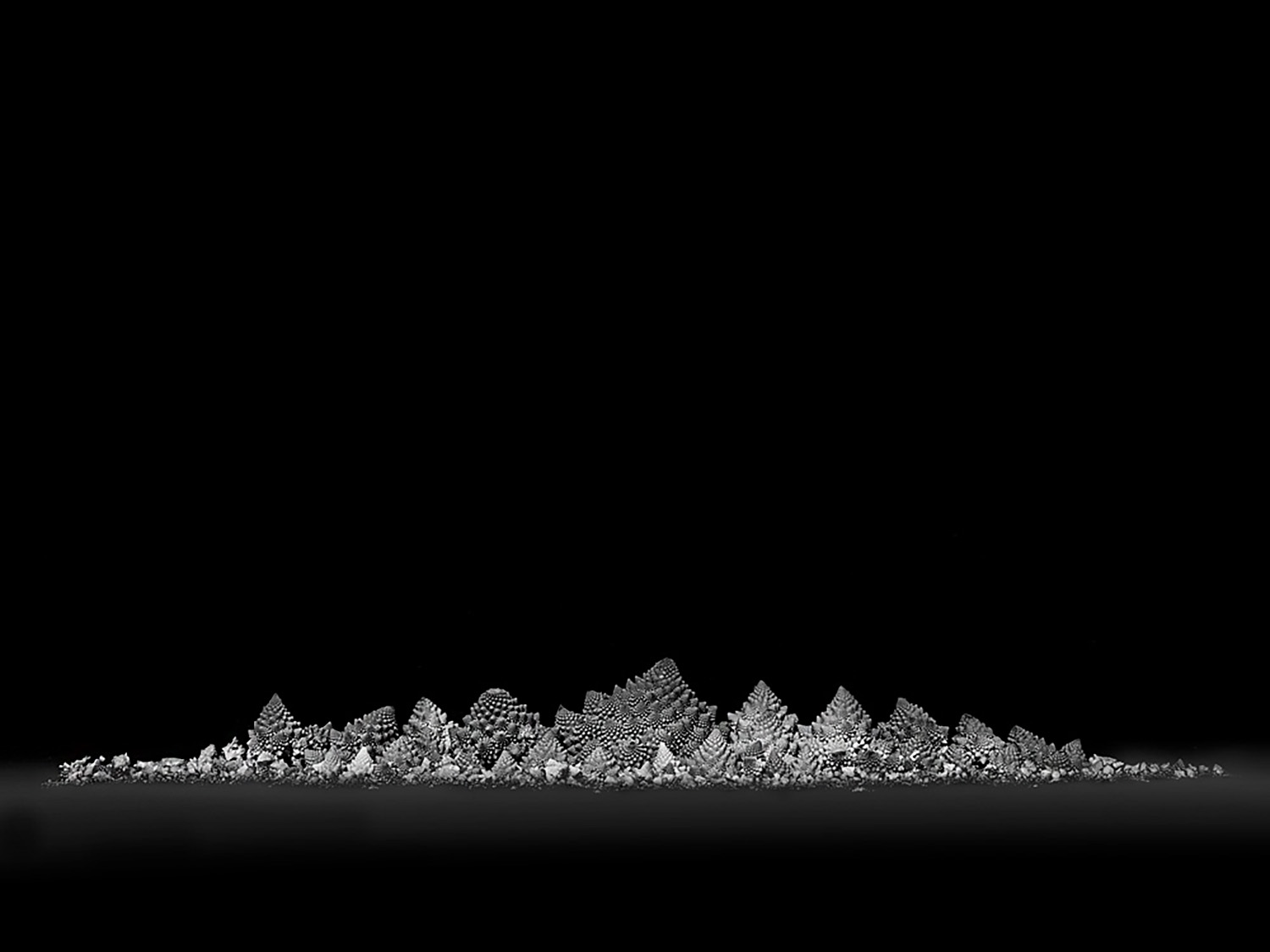 Vegetable Sculpture - 30" x 5"
A newly discovered Mountain Range - right here in Sebastopol, CA. Some say it reminds them of Romanesco Broccoli of all things.
---
February 3, 2018
A near miss of a painting homicide
Oregon Bridge in Fog
Acrylic, graphite, india ink on paper 30" x 22"
This piece was an exercise in patience, persistence and working with various mediums. Between getting the symmetry right and the problematic application of graphite on top of acrylic was just the beginning. In fact it narrowly missed being destroyed not once, but twice. At the end of the day, if nothing else - pleased that I ground it out.
Painting note:
The highest bridge in the U.S.state of Oregon at 345 ft (105 m), the Thomas Creek Bridge is a triple span deck truss that crosses a deep valley overlooking the Pacific Ocean on coastal route 101 near the city of Brookings, OR.
---
January 22, 2018
Shake, rattle and roll with ICM Photography
Signal, Sebastopol, CA
I've been chasing ICM (Intentional Camera Movement) for the last year usually shooting in the dark of early morning or night. The technique is sometimes intermixed with ME (Multiple Exposure) photography however these images are captured within a single frame utilizing long exposures. A tripod is required and sweeping pans, slight bumps, taps, quick jerks or even swirling the camera are all in play.
---
Posts: 2022/21 2020/19